Life Evolver on Facebook
Want the free
Evolve Your Life Happiness Handbook
? I'm giving it away to readers who join 
Life Evolver on Facebook
.
5 Reasons to Join Life Evolver on Facebook
1. Share: Life hacks and tips with like-minded individuals.
2. Learn: New personal growth tips in Life Evolver blog posts.
3. Exclusive Giveaways: eBook giveaways for members of Life Evolver on Facebook (Free Happiness Handbook when you join!)
4. Make Friends: Meet other personal growth-oriented individuals.
5. Ask Questions: Post your life hack and personal growth questions here for a quick answer.
Evolve Your Life Happiness Handbook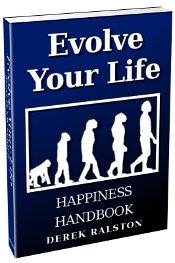 You've heard the advice, "Go to school, get a good job, get promoted, climb the corporate ladder, and you will eventually find happiness." All too often, people follow this society-prescribed path to success, falsely believing that it will lead them to happiness.
This mini-book teaches:
An alternative blueprint for happiness, based on research from numerous books and scientific studies, along with Derek's personal experience
How to change your rat racer or hedonist way of life
13 steps for finding happiness
Like personal growth? Share life hacks and tips with like-minded individuals. Make positive changes to your life.
To get your free happiness handbook, join Life Evolver on Facebook Now!
Popularity: 2% [?]
Related Posts: